The country decor goes to the essential, simplicity is essential. With raw materials such as exposed beams, stone walls, wooden floors, she favors the natural. And when it comes to furniture, this style likes old rooms, steeped in history. For the colors, the light shades sign the country decor, enough to bring a note of elegance to the whole. This style of decorations is not lacking in strengths. It already allows you to play the card of originality and authenticity, but not only. If you want to showcase old furniture, consider the country decor. In addition, the soft signature colors make it a soothing decoration that brings you calm and serenity. Plants, inseparable from the country decor, also help to establish this zen side. Finally, this decoration makes it possible to highlight the ecological values, through the choice of natural materials for example. Besides, here is for you 70 nature ideas for an eco-friendly decoration.
1. Marry terracotta and stone
If stone is sometimes chosen as a floor covering, it is often forgotten for the walls. Combining old terracotta tiles in a brick tone with lightly bleached freestone is the perfect mix for a country house effect.
2. Contrast with candle holders
Candle lighting brings a soft light to the living room. Highlight the candles in candle holders of different sizes and shapes, placed on a table or on the floor.
3. Create exposed beams
To recall the pretty frames of country houses, install exposed beams on the ceiling of your living room. Choose wide wooden slats that you can paint white and age them.
4. Using mattress cover
There are countless patterns and fabric materials to cover armchairs and sofas . Choose for a slightly retro country chic style the mattress canvas that you will associate with a decoration in white, gray or cream tones.
5. A large wooden mirror
Rather than hanging it up, put a large wooden mirror on a console or small table. Not only will the mirror effect enlarge your living room, but in addition the wooden frame will warm the atmosphere.
6. Flower a table
Flowers often add the finishing touch to decorating a room. Bring nature into your home by filling the inside of 2 round vases with a large armful of white tulips without taking them out of the container. Modern chic campaign effect!
7. Give a second life to a bench
What could be more countryside than a wooden bench? Rather than using it as a seat, set it up against a wall and place books, vases, picture frames or photos on it.
8. Mixture of new and old
The country style goes well with salvaged furniture and peeling paint, but it is better to mix these elements with contemporary decorative objects and designer appliances.
9. A cabin in the woods
The contemporary country decor is synonymous with comfort and well-being. Create a refined and warm interior by focusing on wood. We choose it clear and we mix it with trendy tones such as taupe or gray. For accessories, choose natural materials such as linen or cotton.
10. Back to the roots
Take inspiration from old farmhouses and traditional country houses with large wooden kitchens. The natural worktop, neutral tones and cement tile-style tiling enhance this rustic kitchen decor with neo-vintage accents.
11. Ultra chic country interior
This rustic decor for the bedroom uses noble materials such as solid wood and stone. The beautiful exposed beam is enhanced by the contemporary window and the stone wall is softened by the plain paint on the other sides.
12. Ride the vintage wave
Do you like country decor with a flea market ? So much the better, because vintage is more trendy than ever. You have access to a wide choice of retro-looking household appliances, patinated effect paints and stains, aged metal decorations… Let your creativity speak and your country decoration comes to life!
13. Contemporary country style
If you are not a fan of the flea market style, instead bet on the Scandinavian trend to compose your contemporary country decor. Natural wood, clean lines, soft and warm tones are the signatures of Scandinavian design, which go perfectly with this very rustic stone wall.
14. We never tire of wood
Play the card of wood in all its forms to create a rustic bedroom decoration. Transform an old wooden door into a jewelry display, install a contemporary vintage-inspired dresser, take advantage of a paneled wall by painting it white …
15. Contemporary rustic kitchen
In this renovated farmhouse, the beams are transformed into a contemporary work of art under the effect of white paint. This monochrome frame sublimates the country style of the kitchen. The old furniture was kept but repainted, and we installed appliances and a sink with a retro look.
16. Country decor accessories
If you want to bring a touch of rustic decor to the living room without changing everything, simply sprinkle your room with natural elements like these wicker baskets. A few green plants, a knitted plaid, some vintage decorations on the walls, and your bucolic cocoon comes to life.
17. Wooded kitchen
The traditional kitchen island is replaced by a long table of raw wood, perfect to recall the woodwork of the ceiling.
18. Rustic wash
Even our laundry room can take on a rustic feel with a mix of raw materials like wood and metal.
19. Period buffet
To add a country touch to our decor, we paint wooden furniture white, which will give it a country look.
20. Sweet nest
The relaxing atmosphere of the bedroom is maintained by a choice of pale objects with a rustic look, softened by enveloping fabrics.
21. Country bath
Thanks to the natural wood vanity unit, this bathroom takes on a country feel, soothed by the sky blue of the walls.
22. At our bedside
Instead of a standard bedside table, we have a wooden shelf; in addition to being practical, it gives character to the room.
23. Revisited wood
To give a more modern look to a room with wood-clad walls, they are painted white. Light and freshness guaranteed!
24. Raw floor
Inspired by French country houses, this kitchen embodies the country spirit with its stone floor and high ceiling.
25. Revamped bed
A wooden headboard and jute cushions transform a single bedroom into a true country paradise.
26. Dare to color
Bring country style into your home with contemporary decor . The contrast between the wooden furniture and the colors will give your interior a friendly charm.
27. A refined and rustic decor
Fancy a country chic style? Nothing better than a refined decoration. Combine white and wooden furniture for a perfect match. The result will make people envious.
28. A white country decor
White goes well with many pieces of furniture. It is ideal for a country chic style. White brings softness and delicacy to all interior decorations. Bring together two worlds and make an authentic mixture that will bring character, allure and character to your interior.
29. Country style floral decor
Treat yourself to an elegant style with this pretty country decor. Country elements associated with a floral touch will give your interior an original contemporary style. Atypical, this decoration will attract the eyes of all your loved ones and will make people envious. Get inspired.
30. Country chic style with shabby furniture
You have many furniture in the shabby chic style ? These are perfect for country chic decor. You will get a delightful contrast that will bring the sweetness of yesteryear into your living room.
31. Country chic style with exposed beams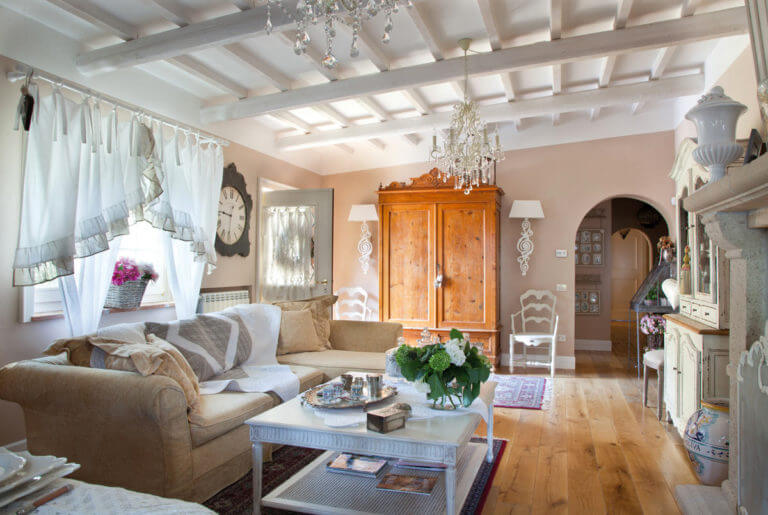 Let yourself be transported into a magical world within your home. If you have exposed beams, feel free to paint them white for a clean and chic style . A fluid decoration will let the light enter your home.
32. Beige tint decoration
Create a sublime and refined decor in a country style. The beige color is perfect for the interior. The pieces of furniture matched with the parquet , will marry perfectly with a pretty veiling.
33. Modern country style decor
The country style is far from known clichés. You can totally have contemporary and country decor. With wood furniture sanded and painted in white, your home becomes welcoming and warm in any season.
34. Change the decor
Change the decor of your home with country chic style decor. Elegant and refined, this decoration will fit well into any interior . Adding a bright color is ideal to recall this must-have style. Not only will it give character to your interior, but also more conviviality and charm.
35. Contemporary country style
Dare to stand out with a contemporary country style decor . No need to invade your interior with furniture and trinkets, simplicity is essential for a successful contemporary decoration.
36. The farmhouse style entrance
Do you want freshness and a country feel ? Opt for this sorrel entrance bench . A perfect cut for a perfect entry. This bench goes wonderfully with a modern decor. Show it off with beautiful accessories, like a knitting rug.
37. The farmhouse style living room
Opt for woven sorrel furniture for a farmhouse style . A somewhat old noble material which is making a comeback in current trends. Finish your decor with white elements for more light.
38. The farmhouse kitchen
Create an offbeat look in your kitchen with beautiful country chairs . Made of wood, they have a simple shape that will go perfectly with the chic allure of the kitchen.
39. Farmhouse style in the bedroom
Fall for a room that recalls country charm. Opt for an elegant bed with a knit rug and other decorative elements in woven sorrel. Your room will be so beautiful that you won't be able to leave it.
40. A warm dining room
Both spacious and friendly, we would gladly settle in this dining room.
41. The softness of a country chic room
In the bedroom, we bring a touch of gray on the bedspread and pillows. It completes the shades of beige.
42. Bucolic bouquets of fresh flowers
To color and embalm the house, we do not hesitate to multiply the bouquets of fresh flowers. They are placed in simple jars or glass bottles.
43. A comfortable and bright living room
In the living room, priority is given to comfort. And to enlarge the room and accentuate its luminosity, why not turn to a white sofa?
44. A touch of modernity
In this kitchen, black and mismatched chairs bring a touch of elegant modernity, while maintaining the chic country style.
45. A cozy and original room
The originality of this room is hidden in the simple details: a table made with a wooden board and magazines and the fireplace at the head of the bed.
46. We leave our dishes visible
Why hide your pretty dishes in cupboards? On the contrary, remove your doors and let your plates and salad bowls dance on your shelves!
47. Wicker: your new favorite material
Modern lines and an essential material: we fall for these wicker lights!
48. We dare the total white!
From floor to ceiling, white enlarges the room by bringing it a beautiful and soft light.
49. Well-chosen accessories
A basket on the floor, a hat on the ceiling, plants and some beautiful cushions, for a successful country chic style, we take care of our accessories.
50. Simple and comfortable outdoor furniture
Outside and inside, we adopt simple lines. Like here, where the pallets are transformed into a pretty garden furniture.
51. Pure country style living room
By the fireplace, in this chic country living room, the logs accumulate to give an impression of a mountain chalet.
52. In the entrance
A chic country entrance with shelves, coat racks and an ultra practical bench. 
53. Vintage and reclaimed
In this chic country dining room, the watchword is recycling! 
54. Bathroom
In this bathroom, exposed beams emphasize the country chic style.
55. Dining room
In the dining room, the rustic wooden table supports the chic country decor. Around it, wicker chairs and an old wooden bench dress the room. 
56. Country chic lounge
For a country chic living room, add a few logs that can double as a stool or coffee table. 
57. White country living room
We love: the exposed beams, which adorn the ceiling and underline the chic country decor. 
58. Barber mirror
For an atypical chic country decor, play with codes and install the barber mirror in the hallway rather than in the bathroom. 
59. XXL country chic lounge
A large living room where comfort and country spirit come together. 
60. Entrance in natural stones
The natural stones of the entrance give an authentic and old aspect to the floor, right from the entrance. 
61. Natural light
A chic country lounge in which wood and natural materials are highlighted by the sunlight! 
62. Natural ambience
Wood and natural materials everywhere: nature is the credo of this piece! 
63. A chic country office
To work in peace, treat yourself to a country-chic setting. Your office will look like a vacation. 
64. Country-chic cuisine
We adopt without hesitation the olive green color in the kitchen for a guaranteed country-chic style. 
65. Minimalist countryside-chic
The country-chic style takes on the minimalist trend by purifying the decoration without neglecting the natural touches. 
67. A dresser
The dresser with transparent doors is the pinnacle of country chic style.
68. Library
Fall in love with old libraries. They have an incomparable charm!
69. Country chic children's room
This country chic style is also suitable for the children's room. Its refined and airy spirit makes this room a pleasant cocoon.
70. A style that reinvents itself
If the country chic style takes its inspiration from the old country houses, it is perfectly suited to more modern interiors.