Rich in color, dotted with complex geometric patterns and luxurious accessories, Moroccan decoration leaves no one indifferent. Today, many individuals are trying to reproduce this warm style at home. To successfully set up a Moroccan living room at home, it is essential to respect certain rules!
1. A sumptuous and brilliant universe
Those who have already visited Morocco can testify to the authenticity of the Moroccan decorative style. From the outside, the houses look the same and are very sober, but once inside, you will be amazed! The oriental decoration is sumptuous, warm and shines with a thousand lights. It is marked by radiant colors, particular patterns, arched doors as well as the presence of various accessories such as rugs and lanterns. Although the Moroccan decoration is slightly extravagant, it can very well be declined in a more sober style without losing its charm.
2. Lighting
For a modern moroccan living room, it is not necessary to invest in major works. We can be content to integrate a few patterns through the cushions and rugs. On the other hand, special attention must be paid to lighting. Indeed, the combination of brilliant colors and lighting is essential to recreate the Moroccan style. Thus, the color gold, yellow, purple and turquoise are particularly appreciated. A large ceiling lamp in the center of the living room will highlight the decorative elements chosen while adding a luxurious and refined touch. To perfectly match the Moroccan style, it is best if it is wide enough while having shiny details. The chandelier can be enhanced by lanterns placed in the corners of the room.
3. A colorful and warm interior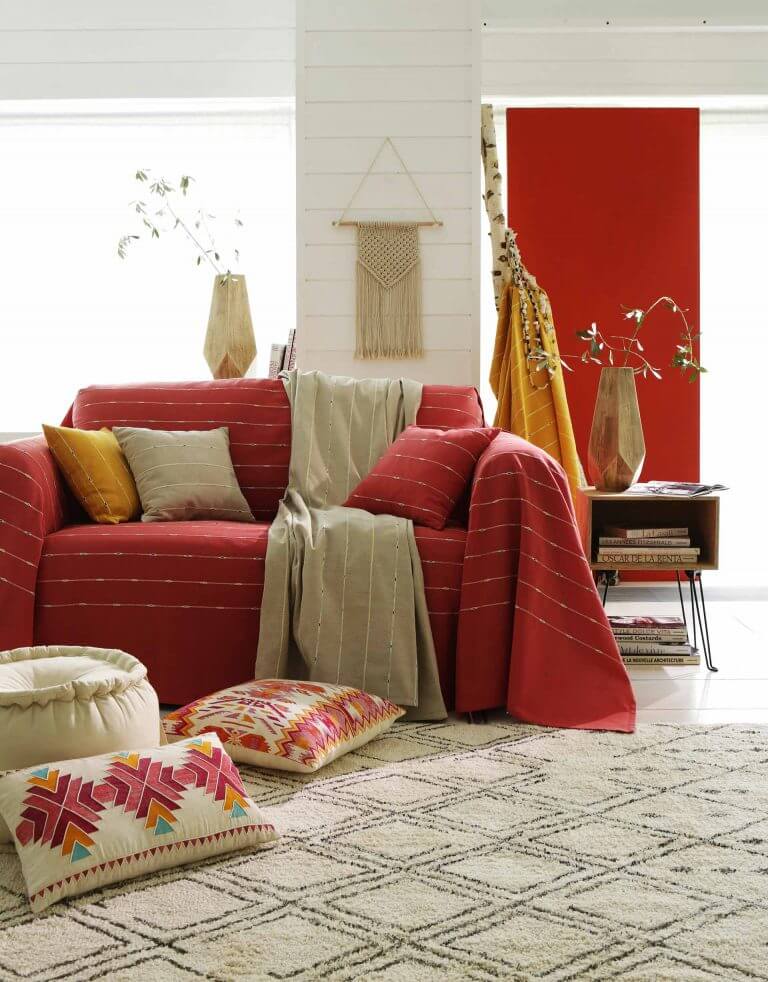 Morocco is a colorful and warm country. The sunny hues are thus very present in its traditional decorative style. The yellow of the sun, the blue of the sky, the purple and the orange of the spices on the stalls of the souks are the main colors used to decorate a Moroccan house. The walls usually sport an orange hue and feature brown undertones that undeniably create a warm ambiance. It is also possible to use this shade for accessories such as cushions, wall sconces and knick-knacks. The walls can be covered with a pastel color (honey yellow, creamy beige, etc.). Some gilding can adorn the edges of windows, fireplaces and plinths.
4. Shimmering colors to match
The ceiling is not left out, being able to display shimmering colors to match the rest of the decoration. While being adorned with bright colors, the ceiling can be decorated with oriental-inspired details such as gold-colored swags or chandeliers.
5. Moroccan furniture
The Moroccan lounge is a friendly space where you receive your guests and where you take the time to enjoy a cup of tea while chatting. It is designed to accommodate a large number of guests, hence the interest of having sofas along the walls . Thanks to this arrangement, guests can easily see each other and reach the coffee table in the middle of the room.
6. Sober decoration
The Moroccan style can be opulent or sober as you wish . Accessories play an essential role. To recreate the auspicious atmosphere of the Thousand and One Nights tales, copper accessories, paintings with gold borders, colorful rugs and cushions are to be favored. They are to be placed everywhere, on the floor, near the coffee table and on the sofas. Those placed on the ground must be thick enough to be able to serve as seats.
7. Decorative elements in flea markets
It is quite possible to get these decorative elements in flea markets, failing to bring them back from Morocco. DIY is another solution, like painting your own mugs to match the oriental style. Also, sometimes it is enough to add a Moroccan lattice sofa throw or use a boldly colored slipcover to set a whole different vibe in the living room.
8. Play with the light
What is often criticized for the typical Moroccan living room is the lack of light. Cocooning , it is most of the time quite dark, to give it a more contemporary side, it must be illuminated and bathed in light. Obviously, we try to give pride of place to natural lighting, but we also multiply the light sources throughout the room.
The suspensions are generally imposing and openwork, the lanterns, the table lamps, the candles and the floor lamps illuminate the space. at different points They also give an impression of appreciable volume. The candles and lanterns further reinforce the intimate, warm side, conducive to the confidences of the Moroccan living room.
9. Use light and pastel shades
To give a fresh and youthful touch to a Moroccan living room, put a bright white on the walls, pastel shades in small touches. Once this decor is set, you can multiply other hues and character patterns while trying to keep it a little sober. If you have a colorful Moroccan sofa and don't want to change it, dress it up with throws or sheets in beige or white tones. You will see, instantly your living room regains a more contemporary look. Do not hesitate to use light colors on a wall or to highlight an architectural detail for example. You give the room personality, but without overloading it.
This Moroccan living room perfectly mixes modern elements with some typical touches. The light blue pulling slightly towards mint blue nicely underlines the arch which perfectly structures this piece. It goes very well with the bright white of the walls which gives a little width. The natural colors highlight the more colorful cushions. They bring a cozy aspect that evokes this type of living room.
10. The proliferation of carpets for an oriental decor
Here, it is a good example of integration of cement tiles which form a carpet without having the disadvantages: the modern version of the Moroccan living room as well in the colors as the accessories and the very worked interior fencing. We notice the low sofa, the ottomans as well as the tables, the bright white designer sofa and the colorful cushions with oriental motifs. Everything is treated in subtlety in this elegant and contemporary Moroccan living room!
11. The choice of furniture for a Moroccan decor
Moroccan furniture all have one very particular characteristic, but which all refer to relaxation and conviviality. They are often very worked in hammered copper, in finely worked wood. The sofas are large and welcoming. They are generally against the wall, but you can very well put a corner sofa with low and simple lines. Think of the chaise longue which is synonymous with rest and which suits this setting perfectly. Of course, Moroccan sofas are mostly presented in warm hues with graphic and geometric patterns. For more modernity, you choose it more sober, in white or beige tones.
Poufs are also very present, they can serve as additional seats or they can store objects, they are leather, colored or not. The coffee tables or the large coffee table is placed in the middle of the space, it accommodates the traditional tea service. They are often very elaborate like the hammered copper cabinets. If you want a more contemporary feel, you don't have to choose all your furniture in this style. One or two pieces are enough. On the other hand, it is impossible to ignore the typical sofa.
Once again, the sofa takes up the codes of hospitality and conviviality. It is sober thanks to the light shades of it. The floor cushions and those placed on the sofa are in green colors that bring nature into the room thanks to the floral and plant patterns.
12. The accessories… a touch of madness!
You have certainly noticed it in every Moroccan interior, accessories play an important role. They are brilliant, very elaborate, sometimes imposing, in short they have a strong personality and are the very essence of the oriental style. Choose them wisely, because they are the ones who set the tone for all your decor. You don't have to sprinkle it all over the space, it just needs to be well highlighted and one or two nice pieces are enough in this case. Precious, luxurious, they are often made from noble materials. They present a work that commands admiration because it is so fine. Cushions, lanterns, candlesticks, tea set, mirror… The choice is yours according to your desires and your tastes.
Multitude of colorful cushions and rugs in bright colors and typical graphics. You notice the colors which are authentic and characteristic of the oriental style.
13. The arches and arches, very strong markers of this decoration
The forms of arches and arches are very often present in this decorative style. They can be found on architectural elements, on trellises and even on certain decorative objects such as mirrors as you have already seen. Sometimes it takes almost nothing to recreate this atmosphere, a few baguettes on a wall or a realization to visually separate the living room and dining room in the living room. These are small jobs that add charm and tradition to your living room.
In this living room, it is the arch that hosts one of the sofas that seem to have been improvised in this place with a few cushions in blue, red and beige tones. We find Moroccan elements in subtle dosage for a decoration oscillating between classicism and modernity.
14. Mix certain styles
In this small Moroccan salon, we did not hesitate to mix certain styles with ethnic and Scandinavian touches . You will notice the presence of azulejos evoking South America. The atmosphere is festive and warm. Like what we can opt for a choice of daring decoration while obtaining a bluffing result.
15. Modern black and white living room
Morocco invites itself into this modern black and white living room in the form in particular of the cushions that adorn the sofa with low lines that we find in this type of decoration. We notice the sober carpet with very graphic patterns, however. A very nice achievement!
16. Blue and white living room
All in blue and white, the modern version of this Moroccan living room is reminiscent of the Mediterranean.
17. Use gray
Gray is a color that we would not tend to forget in Moroccan decor, and yet it is particularly successful despite this dominant color. Refined and elegant, in this living room we find certain codes of this oriental style.
18. Oriental tradition
In the purest oriental tradition, the living room is welcoming with an XXL sofa, simply made from floor cushions. The worked wooden table is typical of this style.
19. Luxurious and elegant
This luxurious and elegant living room is treated in a modern way while keeping and highlighting typical Moroccan details.
20. The thousand and one colors of a Moroccan living room
Coming from a culture where hospitality and sharing are at the heart of community life, the Moroccan living room comes in warm tones. Traditionally, it is adorned with shades of purple, orange and gold for a sunny decoration .
21. Luxurious furniture for a designer Moroccan living room
Decorate your living room with side tables and corner tables so you can store lamps, cups and other everyday objects. In the center of the room, you can also add a large coffee table.
22. Lamps and lanterns for warm lighting
Like this charming candle holder which will be the most beautiful effect on an oriental table. The flickering light of the candles will create a relaxing atmosphere. An idea that will also allow you to opt for scented candles with amber and warm notes.
23. Berber rugs and colorful cushions
To wake up and personalize your interior style, nothing better than to bet on the textile . The rugs, cushions and ottomans bring a touch of comfort and color to your decoration. Give free rein to your desires. Mismatched or uniform, the most important thing is to infuse the whole room with character.
24. Ornaments with inspiring arabesques
The mirrors bring them the depth and the structure of the room. A sparkle framed by lyrical arabesques.
25. Oriental-inspired living room
It is impossible to speak of an oriental-inspired living room without mentioning the carpet. Iranian rugs, Berber rugs and rugs with geometric patterns bring color to the floor of your living room.