The day bed is a variant of the sofa, intended mainly for rest. You are comfortably installed to take a nap or read your favorite novel. It comes in many minds: from the most classic to the most contemporary. It brings style, warmth, originality and pep's in the interior or exterior decoration. You choose it of course in relation to the style of the room and the color you want to introduce.
1. Vintage day bed, scandinavian design
This borrows all the codes of the Scandinavian armchair, which has invaded the decorative world for a few years. A combination of natural wood and light gray fabric, for a solid structure with clean lines. The finish is elegant and the general appearance extremely clean, not a crease to smooth, enough to satisfy the most manic! The contemporary style does not detract from the comfort, the seat is thick and the two cushions will support your neck for a well-deserved rest.
2. Vintage day bed in tufted velvet
Here we are, immersed in the softness of velvet. Its touch is incomparable, its appearance refined, and even luxurious. In a slightly baroque style, this sofa bed features two intense colors: petroleum or grass green. 4 tapered rubberwood feet support the structure as well as its very comfortable mattress and cushions. Spring suspensions, fiber and feather padding, just that to ensure your relaxation, in the living room or in a bedroom!
3. Modular day bed
In a completely different aspect, this chaise longue is like a huge rectangular floor cushion, in which we dream of throwing ourselves! Much more rustic and bohemian but certainly no less chic, it presents neutral and mottled hues. I would gladly place several for a warm and friendly living room, with many throws and cushions and I will complete that with vintage armchairs ! Like a pouf, this chaise longue is also ideal in the playroom or the bedroom, near a Berber carpet for example.
4. Vintage linen day bed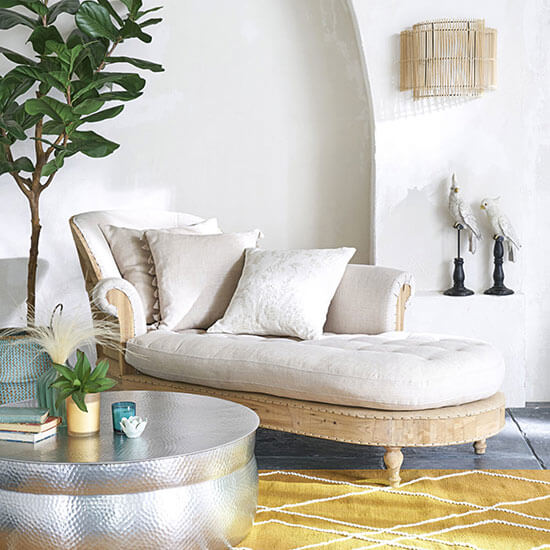 It is I who have desires for greatness or it feels like returning to the time of the Sun King? Perhaps less flashy! I can imagine myself perfectly, spread out all my length, in this cozy chaise longue! Tasting a good glass of wine while watching the children, who like troubadours, bustle around me … Its design is very trendy, made of recycled pine wood, jute and linen, vegetable and natural materials. The thick padded mattress invites you to relax comfortably, without forgetting the 2 cushions to wedge each of your curves.
5. Vintage pink day bed
This chaise longue is so attractive, with its graceful and slender curves, glamorous what! And it is certainly not this pretty powder pink shade that will betray the femininity of the furniture. A short velvet mattress, curved at will, and two small round cushions will welcome you, for long moments of relaxation. Similar to real jewels, the 4 feet are finely gilded, full of charm. In Hollywood, you would find this piece of furniture in a delicious subdued boudoir, but you could just as easily showcase it in your living room!
6. Vintage rattan day bed
In another style, this chaise longue transports us to a world that is both ancient and exotic. The structure is in solid oak wood, subtly carved and patinated, combined with rattan cane. The linen seat cushion offers a rustic, light and vegetal aesthetic, complemented by 5 back cushions of the same invoice. The whole gives a piece of furniture full of charm, not without a certain originality. If I had to adopt it, I would probably place it on the veranda, to soak up the rays of the sun with a hot tea and a good book. And why not add a wooden bench nearby, to place a whole set of green plants?
7. Vintage day bed with golden feet
The allure of this long armchair in its blue velvet suit, which is as appreciable as a corner sofa, while being much more compact. I love this padded shell-style backrest, which ends in a wide armrest. The brass feet are particularly high, ideal for proudly enthroned in the middle of the living room! To complete the furnishings, I suggest you place a side table right next to it to put your things on. A large golden mirror will bring an additional chic touch to your interior decoration.
8. Day bed with armrest
What do you think of this dark mustard yellow? Both intense and luminous, it will inevitably brighten up your interior! The wooden legs can be light or dark, always with that charming brass detail. This vintage bench offers no less than 10 colorful coverings, impossible not to find what you are looking for! The seat cushion is soft, you could even adopt it for a nap! Decorative furniture par excellence, it is also very functional on a daily basis and the whole family will quickly adopt it.
9. Little retro style
This chaise longue has a slightly retro side, it remains easy to integrate everywhere thanks to its simple and refined line. The velvet covering it gives it a warm and refined appearance.
10. Baroque style
This baroque style chaise longue is very glamorous whether it is by its color, its shape or the material that adorns it. It brings incomparable refinement and elegance to your interior.
11. Contemporary style
Here, the meridian with its very refined and very contemporary looks is superb and very classy! It brings style to your living room and a lot of elegance!
12. Original design
This pretty chaise longue offers a contemporary and very original design. We like the armrest which has been placed on the right and which reinforces its comfort.
13. Baroque style chaise longue
A baroque style chaise longue is perfect if you like the slightly bling-bling side provided by the rhinestones inlaid in the upholstery. A very particular model, but which can bring originality to your room.
14. Classic daybed
This very classic daybed is perfect for moments of rest or naps by the fire.
15. Simple day bed
This chaise longue is extremely simple with its very clean line, but it also takes on an unmistakable Scandinavian look.
16. Magnificent chaise longue
This magnificent chaise longue gives the little rustic touch to an interior, but it remains very soft in its lines, and it is easy to integrate everywhere and in different decorative spirits.
17. Cozy little corner
This chaise longue offers a very cozy little corner in your living room or bedroom. It is extremely welcoming and comfortable. We love its contemporary design.
18. White chesterfield daybed
This pretty white chesterfield daybed will be easy to integrate into different decorative styles because of its color which goes perfectly well in different decorations and which lightens the model.
19. Leather covering longue
This chaise longue has a very contemporary and very original design, it is more elegant thanks to the leather covering in particular.
20. Day bed in pastel color
This model is a chaise longue which is distinguished by its pastel color and its very refined line, all of which gives it a certain lightness. It is an idea which offers the possibility of integrating it into the living room, without weighing down the whole.