Who wouldn't want a modern kitchen space? Well, the secret to achieving this simple design idea in your kitchen is to install modern kitchen cabinets. They provide a modern touch that's needed to make your kitchen beautiful.
What are modern kitchen cabinets?
The concept of modernity in the kitchen cannot be defined by a single line. Modern kitchen cabinets could be anything ranging from shaker-style to farmhouse. The type of cabinets installed does not define what modernity is; rather, modern cabinetry is defined by the set of features that create a wholesome modern taste.
Therefore, next time you inquire about modern cabinets, your interest should be in the features that define them.
This article will review the features, highlight the benefits, and also share valuable tips for homeowners installing modern cabinetry.
What do modern kitchen cabinets look like?
Next time you are in a furniture store, physical or online, the following features should be your guide to getting the right modern cabinetry:    
They are simple
One of the finest defining features of modern kitchen cabinets is simplicity. Homeowners nowadays prefer simple designs that match the existing themes and styles in their homes.
It is the same reason why shaker-style cabinets are becoming increasingly popular. Their simple lines make them aesthetically pleasing.
They are utilitarian 
In the past, kitchen cabinets were simply used for either beauty or function. However, modern cabinets have a utilitarian purpose. They are used for both function and beauty. This means that they must be beautiful and have enough storage space.
They are colorful 
Colorful doesn't mean that a single cabinetry unit has multiple colors. It means that modern cabinets are expressive and use colors to create specific moods and atmospheres. In the past, homeowners were reserved with colors and only used neutral colors for their cabinets. However, things have changed – it is possible to find modern cabinets with bold colors like red, orange, yellow, green, etc.
They have additional features 
To make them more functional, modern kitchen cabinets have extra features attached to them. It is not a condition for modern cabinets to have the following features, but you will often notice them in most modern cabinets:
Deep drawers that store more kitchen items

Trash and recycling pull-outs to reduce floor space used for trash bins

Special pull-outs for ingredients

A pull-out for linen

A stand mixer lift

Pet bowl storage for homes with pets.
These extra features vary depending on the needs of homeowners. Therefore, you should be specific about the extra features that you would want to be installed alongside your kitchen cabinets.
Remember that most of these features serve both functional and aesthetic purposes.
These are not all the features of modern cabinets but enough to give you an overview of what to expect when buying modern kitchen cabinets.
The benefits of modern kitchen cabinets
Plenty of storage

Great aesthetics

Low light solution

Compatible with other styles

Increases resale value
Plenty of storage
One of the primary focuses of modern cabinetry is function. The core function of kitchen cabinets is storage. Modern kitchen cabinets have enough storage that makes them ideal for busy kitchen spaces.
Most of the extra storage comes in the extra drawers and pullouts that are often included in these cabinets.
Great aesthetics 
If you are looking for a beautiful kitchen space, you should consider modern options. They are designed with both beauty and function in mind. Therefore, it will always fulfill the desire of your aesthetics.
However, you need to factor in other kitchen elements when deciding the type of modern cabinets that you want to install to make your kitchen beautiful.
Low light solution
One of the biggest problems that most kitchen spaces have is insufficient lighting. This problem can be solved with modern cabinets, which utilize lighter shades to create a beam of light. For example, installing white shaker cabinetry can help to reflect more light into the kitchen, making the kitchen space livelier.
Compatible with other styles 
Modern designs of cabinets are also compatible with a majority of kitchen spaces. They are designed to keep up with the current trends in the kitchen. For example, if you want a minimalistic kitchen space, you can find multiple modern kitchen cabinets compatible with this kitchen idea.
Increase resale value
Finally, you will also be adding value to your home if you install modern cabinets. This can be an exemplary benefit if you are planning to sell your home soon. You will find more buyers willing to pay more because you have installed modern kitchen cabinets. Even if you are not planning to sell your home, you can enjoy the improved value of your home to access bank loans.
Tips for modern kitchen cabinets
The following tips can be used to maximize the appearance of a kitchen with modern kitchen cabinets.  
Declutter 
The appearance of a kitchen with modern cabinetry depends on the general organization of the kitchen space. You should remove all the clutter in the kitchen space to make the space feel airy and beautiful.
A couple of tips can be used to declutter your kitchen space. For example, you can create an organizational kit within the cabinets to accommodate the different kitchen items that are often left out unattended.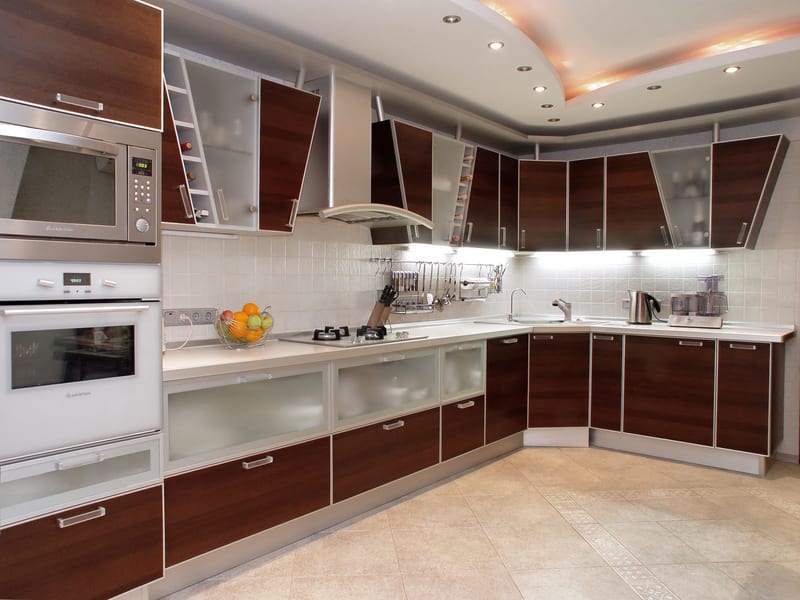 Have the right color scheme
Modern cabinets should have colors that reflect the expected mood in the kitchen. The colors chosen for the cabinets should be consistent with the theme colors of the kitchen space. If you are unsure, you can always start with neutral colors like white or gray.
So, are modern kitchen cabinets ideal for your home?
This is a decision that you will have to make based on personal preference. You can consider the benefits shared above as your persuasion to buy modern kitchen cabinets instead of the traditional options.
There is also a way that you can blend traditional cabinets with modern cabinets. An interior design expert can help you find a perfect fit if you are interested in merging the two ideas.