We all know that paint color sets the mood and style of a kitchen. As we also know that color is energy and by choosing a specific color we decide the atmosphere that will prevail inside our kitchen. For those who want to breathe the freshness of a spring atmosphere and would like a kitchen with a joyful and tranquil feeling, we have the best color idea: green. Green has been scientifically proven to have a calming and relaxing effect. To give you ideas, we have collected the most attractive designs of kitchen design decorated in green.
1. Fresh and soothing
The mix of pastel and cheerful colors with warm materials imbues this kitchen with a light, refreshing and revitalizing appearance. Pastel green cupboards provide the cheerful and fresh note. Accompanied by these rattan bar stools, the set is simply splendid.
2. Contemporary
Here is a perfect example of a kitchen that is both simple and cheerful. The designer used just two color tones and you can see for yourself the neon green backsplash that breaks up the gleaming white of the cupboards, providing a new dimension of freshness.
3. Cottage
This kitchen decorated in a cottage style is neither loaded with dark colors nor cluttered with furniture. On the contrary, it consists of light and clear colored furniture. The pastel green cupboards create a fresh and brightened look.
4. Warm and calm
You can definitely notice the calm and balanced vibe of this kitchen. This comes from the predominance of the pastel green color of the cupboards and that of the wooden panels. Not to mention that the shade of green used gives this place a warm and tranquil feel.
5. Opulent and unique
This kitchen is actually owned by Hollywood actress Cameron Diaz, so it can be said that this kitchen also reflects her distinct and sophisticated taste. The deep green cupboards create a very vibrant and opulent vibe.
6. Ecological
The shade of green on the wall gives this kitchen a wonderful and calm look.
7. Style farmhouse
This kitchen is so spacious, absolutely beautiful and cheerful! The soft green shade is the origin of its intimate and charming side.
8. Industrial
The green wall creates a superb and dynamic atmosphere in this beautiful kitchen. All the more, the shade of color adapts perfectly to this industrial and relaxed setting, while generating an urban and chic atmosphere.
9. Lime green walls
The soft and harmonious atmosphere of this kitchen imbued with a cottage touch is achieved thanks to the green wall. The latter provides an uplifted and relaxed note at the same time.
10. Water green kitchen
Particularly soft, this light green goes particularly well with blue, to create atmospheres that are both elegant and contemporary. The proof in image with this fitted kitchen area in a Haussmann apartment, where the skilful mix of colors, enhanced by black bands, has created a chic and modern decorative theme, typically neo-Parisian. The kitchen, perfectly in line with the theme and devoid of wall units, thus fits perfectly into the dining area.
11. Verdigris kitchen
Particularly soft, almost powdery, this mid-tone shade is easy to live with, if a little bland. More distinct decorative elements, such as olive green kitchen walls, an island hood or nods to the industrial style with glass-style sliding doors, will however contribute to bringing it the necessary depth thanks to a subtle play of contrasts. The trick to borrow from this verdigris kitchen? The built-in cupboards, coordinated with the kitchen furniture, which frame the family refrigerator.
12. Almond green kitchen
Fresh and bright, this almond green fitted kitchen relies on neutral coverings, from the credenza to the coordinated worktop in moon gray laminate, via the matching vinyl floor, to better highlight its minimalist fronts, enhanced by a texture. brilliant. The frames and handles are deliberately refined in order to emphasize the color. A rather successful approach, especially since the room, open to the outside thanks to a large bay window, enjoys an unobstructed view of a verdant garden and its multiple shades of green.
13. Green and wood kitchen
Wood is the natural ally of green , in nature as in the kitchen. With it, it is impossible to make a mistake in taste, whatever the essences or finishes chosen. A must for those who are not convinced by the total green look… As for the credenza and worktop, everything is allowed, provided you opt, again, for raw materials – or successful imitations -: coordinated wood, of course, but also marble or stone. The detail that makes the difference? The wooden dining table integrated into the central island.
14. Olive green kitchen
Attention, audacious chromatic bias! Inspired by the gourmet and sun-drenched nuances of this typically Mediterranean fruit, this very stylish kitchen is distinguished by its wavy facing in olive green bitumen slabs, diverted into wall facing on the water-green partition, as well as on the kitchen island, waxed concrete. A decorative tip at a low price, just €5 per square meter, and easy to implement to turn your kitchen olive green, in a jiffy!
15. Green and gray kitchen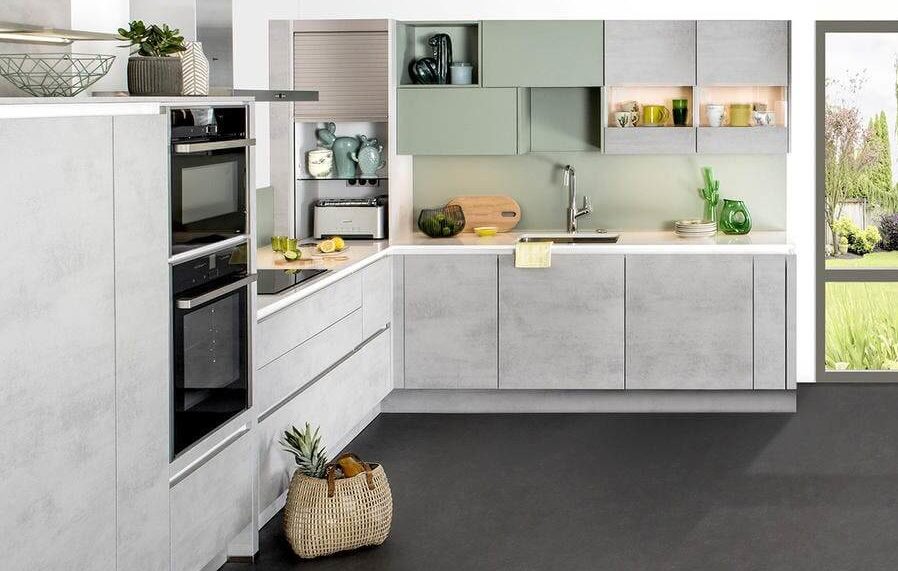 The easy way to design a green kitchen without taking any risks? Combine it with facades or a gray worktop. Light or dark, smooth or textured, this neutral color lends itself to all combinations, especially with light green, very bucolic, to which it brings a little density and urban harshness, or dark green which it emphasizes, on the contrary, the depth.
16. Dark green kitchen
To accommodate dark green in the kitchen , a shade with a strong decorative character, bet on very sharp atmospheres and favor high-end materials. The must: a green kitchen worktop and a matching splashback, sculpted in marble and enhanced with bling touches. Another possibility is to bet on a very urban atmosphere with matte facades, combined with trendy coverings such as wickerwork or a mottled monochrome Terrazzo-style floor.
17. Sage green kitchen
This shade, close to almond green but softened by a touch of grey, will not fail to seduce fans of halftone colors… Special mention for this version whose smooth and matte surface, without handles or roughness, has been placed tone on tone, from the cupboards to the credenza, via the worktop, to create a flat graphic design.
18. Duck green kitchen
Whether it is a green verging on blue or a blue verging on green – the real name of this color being duck blue – this intense shade, acclaimed in interior decoration for several years, is endowed with an unusual ability: that of giving cachet to the most outdated rooms. Very intense, it must be handled with skill, and associated with neutral shades, such as white or black , otherwise there will be a chromatic cacophony. In the kitchen, it can therefore be applied, as desired, to walls or kitchen furniture.
19. Green and white kitchen
Want a green interior without racking your brains? Then this association is made for you! Green, especially in its darkest shades, goes perfectly with white coverings , which bring out its luminosity. Fans of simplicity will thus opt for splashbacks and worktops in HLP, compact or immaculate Fénix, while lovers of precious finishes will turn instead to marble. Our decoration advice: add a zest of caning, on the cupboards or on the accessories, for an irresistibly fifties spirit.
20. Lime green kitchen
Watch your eyes with this very bright, almost neon shade, which can nevertheless be used in the kitchen, provided you dose it subtly! Our advice: avoid investing in anise green furniture which risks getting tired of you quickly, or not being unanimous among your loved ones, and instead bet on elements that are easy to replace in the event of an overdose of color, such as paint or, better, wallpaper, preferably in a washable version.
21. Green and black kitchen
Chic and timeless, the green and black kitchen is a safe bet . Very masculine, especially in this dark and matte version, it nevertheless deserves attention to the smallest detail to assert its personality. Any ideas to borrow from this particularly successful production? The niches in the wall units that allow you to personalize your kitchen with decorative accessories or to display your most beautiful crockery, the black lacquered wall or the leather handles.
22. Pastel green kitchen
Ideal for illuminating small spaces or bringing sparkle to rooms without windows, pastel green is adopted in the kitchen, for once, preferably in a lacquered version to capture and return as much natural light as possible. And to fill up on chlorophyll, why not take inspiration from this adorable kitchenette entirely decked out in green, from pastel green lacquered furniture, to matching paint and almond green tiling?
23. Fir green kitchen
High in colour, this deep and warm shade adapts to all interior styles, whether modern or, as here, more classic. To personalize it, it is the accessories that make the difference: shell handles, metro tiles and ceramic sink. We fell in love with the display cabinet which brings a touch of authenticity to kitchen furniture, which is nevertheless manufactured by a famous Swedish furniture retailer at a low price.
24. Green and yellow kitchen
Although tasty, this spicy and original combination, as unexpected as it is daring, is not to be left in inexperienced hands… To avoid making a mistake, opt for a mix of coatings – paint, wallpaper, tiles… – green and yellow, only on real kitchen units. If necessary, if you really want to try the adventure, bet on vintage Formica furniture or personalize your basic facades first with waterproof stickers or special kitchen paint.
25. Taupe and green kitchen
Want sweetness? More subtle than the green and white kitchen , this very delicate interpretation is ideal for country houses or family interiors in search of serenity. Open to the living room and the garden, thanks to large bay windows, this bright kitchen is equipped with an L-shaped return serving as an improvised dining area. The built-in storage makes the connection with the lounge area. The result is a warm and friendly atmosphere.