The coffee table is one of the essential pieces of furniture in the living room. Installed near the sofa or an armchair, on a rug or not, it is a practical and user-friendly piece of furniture. You can put books, remote controls, aperitifs when you receive people and other decorative objects.
On the left, coffee tables with metal top and legs. There is a darker wooden top and thicker metal legs for an industrial style on the right.
Looking for a coffee table for your interior? The choice is not lacking: from the shape of the coffee table (rectangular, square, round, oval, etc.) to the materials of the top (wood, teak, glass, metal/steel, marble, travertine-style stone, and even concrete…), single or trundle (double) through the dimensions and height… And then there is the design: what style of coffee table for your decoration: relatively modern, contemporary, Scandinavian, vintage? With a 2nd tray below, drawers, or a simple tray?
Below are our decoration ideas and advice: we help you find THE coffee table that will be perfect in your living room for your house/apartment, with many examples of layouts illustrated in the photo.
Coffee tables by shape
Are you looking for a specific shape of coffee table for your living room? Rather round to move around quickly, square or rectangular for a larger surface and to match the condition of your sofa? Or, on the contrary, in a more original shape, like the organic shape, ultra-trendy in 2022? Here are the different forms of coffee tables that exist.
1- Organically shaped coffee tables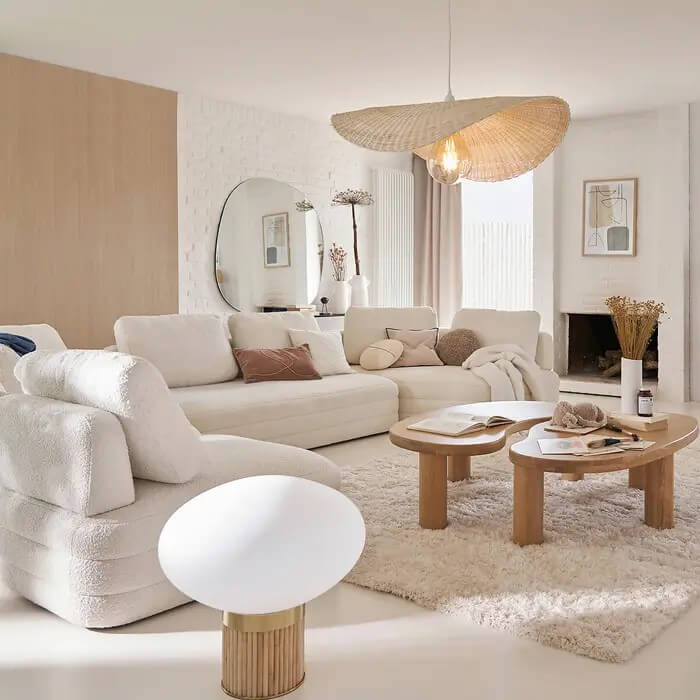 Organic oak coffee table

Pure solid ash coffee table
As for the mirrors, the organic form, with curves and abstract and rounded lines, invites itself on the coffee tables. This is the big trend of 2022 in terms of coffee table shape. Discover below some organically shaped coffee tables selected from the current collections.
2- Round or oval coffee table

Contemporary oval wooden coffee table
Lotus coffee table Ø 65 cm glass and solid oak legs
The round or oval coffee table is one of the trends of 2022, with the return of the retro style. Among its advantages, the round table is user-friendly, makes it easier to move around it, especially in small spaces, and does not bump your legs into corners. It is also suitable for young children because there is no corner to bump their heads. It can be in wood, marble, metal, concrete, stone, glass top, and different colors. In short, there can be so many choices that it is sometimes difficult to choose!
Two large nesting coffee tables with oak top and Vova metal legs. Nesting tables make it possible to have two coffee tables which generally fit one under the other to save space.
Jeanette round coffee table in black Mindy wood Ø 80 cm – Kave Home. Also available in wood color.
3- Rectangular or square coffee tables

Crueso oak square coffee table

Tray coffee table
The square or rectangular coffee table is furniture favored in a spacious living room, with sofas/armchairs further apart because the top surface is more extensive and makes it possible to connect all the seats, whether they are face to face. Or at an angle.
Square coffee table with aged brass/marble effect, Mahaut. White marble top. Rectangular industrial coffee table with solid fir top and metal legs.
Coffee tables by material
4- Wooden coffee table
Oval coffee table in solid oak, Jucca. Lower top with bars, upper oblong top, tapered legs. Wood is one of the essential materials in furniture. Whether you want a coffee table in solid wood (at a necessarily higher cost) or wood veneer (laminate), the wooden coffee table goes with almost all decorative styles can take all shapes, but also colors. The wood can be dark like walnut, blond and warm with oak, or whiter/lighter with bleached oak or another lighter wood.
Whether the legs or the top is made of wood, with this material, you are sure to fall in love and warm up the atmosphere of your living room.
5- Glass coffee table
Burano glass coffee table 110 x 55 cm. A living room table ultimately in glass for more transparency, lightness

Coffee table with round glass top, oak legs Ø50 cm.

Pedrera coffee table / H 38 cm – Reissue 1955 – Gubi – glass top
The returning trend since 2020, the coffee table with a glass top (and sometimes even glass legs) will bring a contemporary touch to your living room. Generally, this table does not weigh down a decoration since the light passes through thanks to their transparency. It goes well with different decorative styles (Nordic, Californian, Art Deco, etc.)
6- Marble coffee table

Coffee table in black metal and marble top

Coffee table in black marble and gold metal, retro art deco style
Marble is one of the significant trends of recent years, not just in kitchen worktops! The coffee tables' tops are adorned with emerald tones and brass legs for an art deco/1920s style or with black and white tones for a more minimalist, elegant style. The advantage: a resolutely chic piece for the living room. The disadvantage: a higher price (although marble imitations exist) and a more fragile top that requires some maintenance and to be careful, especially with any liquids or food placed on it.
7- Stone, terrazzo, waxed concrete, or Travertine coffee table

Travertine coffee table

Round terrazzo coffee tables

Distinct travertine coffee table
Even trendier than marble or glass, or even timeless wood: stone. And not just any! Travertine, terrazzo, and even waxed concrete are popular on coffee tables.
Coffee table by style
8- Industrial coffee tables
Wood and metal are the two materials that generally make up an industrial-style coffee table. The aged effect, steel handles, wood that has been worked / quite dark… It's hard not to recognize the industrial style on a coffee table. We can marry it with a leather sofa!
9- Scandinavian coffee table
With their sleek, minimalist design, Scandinavian coffee tables are often made of a single material (wood, metal, etc.), a single color, and with straight or rounded shapes—no-frills for these tables that blend perfectly with a Nordic decoration.
White Scandinavian-style coffee table, white top, wooden legs
10- Retro / vintage / country coffee table
Is your style more retro or vintage? Do you prefer furniture with brass or, on the contrary, slightly aged wood (a bit in the farmhouse/countryside/seaside spirit)? From the art deco style to the chic country via the seaside, the coffee table furniture can bring its touch to your decor! Coffee table 2 trays four drawers, traditional style. Aged wood.
11- Design/designer coffee table
For an original coffee table with a worked design, which is rarely seen elsewhere, opt for a designer coffee table! Big names have sometimes created cult models of coffee tables with noble materials, some of which have been reissued in recent years. These top-of-the-range, even luxury coffee tables come at a price, but it's the price of a beautiful piece that does everything in a living room!
How to choose the right coffee table for your living room?
12- Measure the available space carefully
What surface will you have for your coffee table? Can you walk around? How many sofas or armchairs do you have? Do you often receive people? Do you plan to make yourself comfortable and put your feet on it? To eat sometimes on your coffee table (couch evenings – TV / Netflix!)? Remember to take measurements before cracking on a coffee table. The diameter or length/width should be reasonable in proportion to your living room.
Likewise, think about the number of coffee tables you want! You can have a primary one or two nesting tables and a small side table (also sometimes called end table). This may be in the same style as your living room coffee table or a different one to decide.
13- What decorative style for your living room/living room?
The ideal when choosing a coffee table is to match it to the style of the room: Scandinavian, vintage/retro, industrial, seaside, Californian, farmhouse… The ideal is to think of the sofa set, coffee table, and TV stand. How about a rug underneath? Berber carpets are still trendy in 2022, especially with the Scandinavian style.
14- Table height
Before buying your coffee table, check its dimensions carefully. Beyond the length and the width or the diameter, the height of the tray is a criterion to be checked. It must be harmonious with the size of your seats (sofas and armchairs) to have a beautiful aesthetic result. We generally prefer table tops a little lower than the couch's height.
15- The price
Like any piece of furniture, buying a coffee table can require a specific budget (except for cheap IKEA-type coffee tables). From a few tens of euros to several hundred euros for brands or creators (designers such as the reissued Gubi…), all prices depend on the quality and style… It all depends on the use and design you want, especially if you're going to change it often.
16- Which coffee table with a baby?
If you have a baby who is starting to walk or a toddler, several criteria should be taken into account:
Safety: I prefer a coffee table without sharp corners (round or oval tables are perfect) or edges likely to injure.
Solidity/resistance: knocks, pencils, stains… Your coffee table will be at the height of a small child and therefore more likely to be a little abused than another piece of furniture in the house. Either you are aware of it and accept it if, on the other hand, you do not want to take any risks, opt for a table that is less fragile, or that you can change more quickly.
Our website Flawssy is also one of the decoration sites that makes its mark and becomes essential in trendy home decor.