If you are looking for original DIY decorations to decorate your interior at Christmas, you have come to the right place! Take a look at these superb decorations made from recycled glass jars. Get inspired …
Are you running out of decorating ideas for the looming Christmas period? Do not worry! We offer a wide range of decorations with glass jars to brighten up your home to perfection this year.
1. Glass jars with light garlands placed inside
Glass jars are ideal for creating bright decorations. It is possible to place garlands inside, as shown in the picture below, or candles. You can then put them on your party table, on the fireplace mantel, or hang them on your terrace, in your garden, or elsewhere.
2. Hanging light decoration idea for a magical Christmas interior
Turning glass jars into candle holders is easy and it makes a fabulous light decoration! It is also possible to paint them or decorate them inside or outside with stickers and small original objects.
3. Paint them with leaf design
We love this idea of ​​decorating glass jars with paint and using a tree leaf.
4. Decorative composition with candle holders, pine cones, and a ribbon
It is said often enough: pine cones make a wonderful decoration for any occasion! You have a park near you, take the opportunity to take a walk and pick up pine cones, leaves, and tree branches: it's free and the results are fabulous – guaranteed! Take a look at these two jars, turned into candle holders and decorated with tiny pine cones and greenery:
5. The snow invites itself inside the house in the form of a jar …
Do you like this idea of ​​a jar decorated with "snow"? To make it, you will need glue, Epsom salt, a string, and a candle.
6. Composition idea with a small decorative bird and artificial snow
It is also possible to decorate the inside of your jar with artificial snow and create a composition with other small objects. Above, we see an idea made with a small decorative bird and a pine cone.
7. Christmas decoration idea made with glitter and glow sticks
To achieve this idea of ​​light decoration, it will be necessary to stock up on glitter and light sticks.
8. A glass jar that is used to store chocolates and candies
Use the glass jar that you no longer use to store objects, cakes, and candies: it's a wonderful idea!
9. Original idea to make with glitter
Here's a cute idea that kids will just love! A glass jar transformed into a friendly reindeer:
10. An elegant and fresh Christmas decoration
These glass jars, transformed into vases, are for sale online. However, it is possible to recreate them yourself.
11. Glass jars dressed in wool and decorated with a cinnamon stick
We love this idea of ​​dressing glass jars in wool: a decoration that will undoubtedly make your interior and the atmosphere more cocooning and warm.
12. A glass jar diverted from its main function and filled with delicious cakes
Who doesn't love Christmas cookies and cakes? If you don't have a container to put them in or fancy a more original presentation idea, use your glass jar and decorate it with a ribbon, as shown in the picture above.
13. Christmas composition with fir branches placed in a red jar
A red bright jar with some decoration on top of it really makes a sensible decoration for Christmas. To add more beauty to it, tie a white ribbon on the neck of the glass jar.
14. We all remember these magical objects!
Put Christmas special figurines or small dolls into the jar with some snow effect, giving a magical decoration feel to your home.
15. Use Jam jar with some decoration
The snowflakes, the berries, the fir … More elements characteristic of Christmas that we remember the magic provided by this special time of year! Place everything in a pretty glass jar such as an old jam jar. It will serve as an original decoration for the holiday table!
16. Multicolored jar with vegetal decoration
The LED lights are extremely trends this year. Of multicolored jars that will brighten your living room and make a note of vegetable modern at the foot of your tree! You can even form a bunch of pine, pine cones, mistletoe leaves with the jar to polish it all up!
17. JOY trio
It is important to show and express your emotions during Christmas time. Remind your guests of the importance of joy, during these moments of reunion with the arrangement of glass jars expressing emotions! Smile and keep your unique good mood when meeting your loved ones!
18. Alphabetical themed decor for children
Your children will not be left out. They will be able to do manual labor during their holidays while having fun! Your decoration of glass jars, illustrating the letters of the alphabet, will amuse children as well as adults!
19. Decorated jars as a table centerpiece
As a centerpiece or decoration at the entrance of your home, we recommend this magnificent assembly. Stay natural and compose your bouquet of pine branches and pine cones to place in jars! In addition to being refined, it has the merit of being simple!
20. Blue jars
Blue is the color star of all time. To stand out in the middle of this assembly of white, red, and green, we recommend an ornament with the colors of the sky to catch the eye of your guests! A refined and sophisticated Christmas is the key.
21. Magical lighting jars
For children, Christmas is magic! To give birth to the magic of Christmas, go for this glass jar with the fairy on it! With the light garland nestled inside, this decorative accessory will immerse your cozy nest in a pleasantly magical atmosphere !
22. Decorate with stars
Gold and silver stars, fake snow, and glass jars: a simple but effective idea to decorate at Christmas!
23. Decorate with white lights
Fill a pot with white lights and you will have a point of light that will amaze you!
24. Snowy Christmas landscape
In a glass jar, you can recreate a real snowy Christmas landscape, for the joy of the little ones.
25. As a candle holder
A small candle, fake snow, and some ad hoc decorations: here is the pot that becomes a sweet centerpiece.
26. For a Christmas table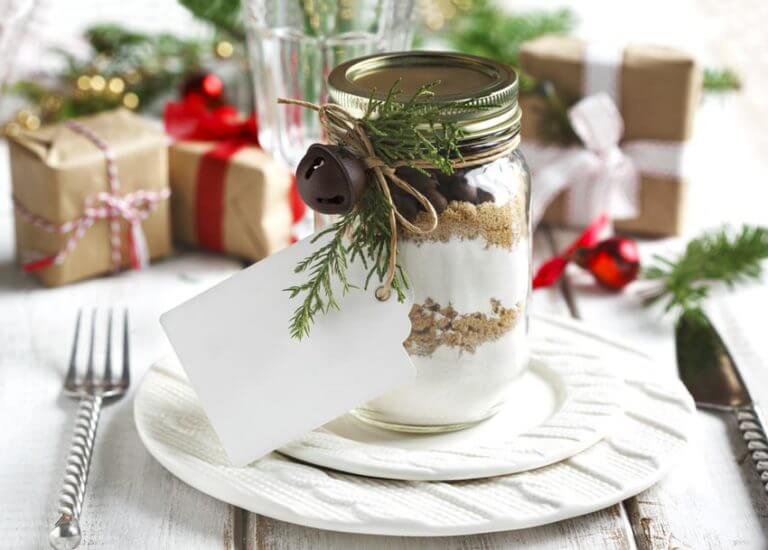 The place card you weren't expecting for the Christmas table: a finely decorated jar that will amaze guests!
27. Chic style decor 
Lights, branches, decorations with Christmas motifs: a glass jar is a ductile object that lends itself to all interpretations of styles
28. With some colorful berries
Twine, a few colorful berries and lights: when the Christmas glass jar speaks to the heart and warms the winter evenings.
29. Hanging jars
How wonderful are the lanterns full of warm light and Christmas motifs, made with recycled glass jars: Christmas in all its beauty!
30. For childrens
How wonderful are the lanterns full of warm light and Christmas motifs, made with recycled glass jars: Christmas in all its beauty!
31. Red decoration
The cheerfulness of red and white and candles inside the jars. Put pinecones and twigs to top it off!
32. Golden Chic
Proof that a mason jar can be chic!
33. Fruity taste
The transparency of the mason jar allows you to play with the textures of cranberry and rosemary to create a unique centerpiece.
34. Christmas candle
We get into craftsmanship by creating these candles ourselves. A homemade gift that will please everyone.
35. Festive utensil holder
If we like to decorate everywhere – even in our selection of kitchen utensils – we will spoil ourselves with this festive metamorphosis.
36. Crown of lids
It's not just the jars that can have a second life; lids can also be used to create artistic pieces with Christmas accents.
37. Holiday couple
Armed with a hot glue gun and paint, we transform our Mason jars into Christmas jars that can be used as vases or even as piggy banks for children.
38. Sweet tooth
To please the sweet tooth, we layer the necessary ingredients for a decadent hot chocolate.