How we like to see the whole house shiny! We can't say the same about cleaning tasks, but put on your gloves since one thing implies the other. Today it's time to pass the duster!
How many days a week do you spend cleaning and organizing the house? Probably more than you would like. Keep track of these products, tools, and ideas to make your task much easier.
1- TAKE CARE OF YOUR HANDS
The manipulation of food, water, and soap takes its toll on the hands. Did you know that the American firm Dawn has launched gloves impregnated with moisturizing cream to keep them soft? We offer you a home remedy. Before scrubbing, apply a generous layer of cream, put on your gloves, and the heat will make your skin silky smooth.
2- CLEANS WINDOWS BOTH WAYS
Learn this infallible trick so that your windows or any glass surface, such as the shower screen, are sparkling. It uses vertical movements on one side of the glass and horizontal movements on the other. When you spot a stain, you'll always know which side it's on. And you won't waste time reviewing over and over again.
3- TAKE ADVANTAGE OF THE DISHWASHER
This device, which helps us so much, can multiply its benefits. In addition to putting crockery and kitchenware in it, use it to clean the hood filter, plastic toys, or the toothbrush holder. Use a gentle cycle for this and skip the hot dry.
4- DOORMATS, IN DUPLICATE
You will catch more dirt if you place two mats, one made of coconut fibre outside the door and another made of rubber inside. But if they are dirty, they will not do their job well. Shake them whenever you can on the landing, which will be easier to clean than if you do it inside the house. And vacuum them with a steam cleaner to keep them free of dust and bacteria.
5- THE WEATHER IS A GOOD ADVISER
Never clean the windows if the weather report announces rain. Better choose a cloudy day or when the sun does not shine directly on them. Excessive heat can dry out the product before cleaning and leave streaks on the crystals. Shine them up with a newspaper—dust on a sunny day, when the particles are most visible. And when you wet mop the floor, it will dry much faster if you open the windows and let the air circulate.
6- IMPECCABLE OVEN

Before you clean it, you should let it cool down completely if you have a paralytic model, which cleans itself, what you save! For those who are not so lucky, wipe it down with a cloth soaked in baking soda and vinegar. This old recipe works great for removing tough stains, plus it leaves a nice fresh, clean smell.
7- BLINDS, AT THE BLOW OF SOCK
Cleaning your home blinds is a daunting task, but it doesn't have to be. The solution is to mix equally warm water and distilled white vinegar in a bowl. Slip an old sock into your hand and dip the garment into the mixture. Drain it before passing it through each plank individually. It will surprise you!
8- GLEAMING FLOORS
Bio-alcohol cleaners clean and disinfect, while a new generation of mops removes dirt with fewer passes and is bleach-resistant and machine washable. A perfect tandem!
9- SAY GOODBYE TO FAT
The worst thing about cooking is the amount of fat that accumulates in it day after day. Eliminate it with an effective degreaser with repellent action, which prevents new deposits on surfaces, and without the need for rinsing. This will ensure that the result remains.
10- FROM UP TO DOWN
Eliminating the mites that swarm the rooms is important, especially if there are allergies at home. Prevent dust from accumulating and always clean from top to bottom: start with the ceiling, corners of walls, and lamps. Help yourself with a duster to keep the most delicate objects safe from dust.
11- UPGRADE YOUR CUBE
Change your old mop for the new intelligent models with wheels, ergonomic handle, pedal for better wringing, water level indicator, or adjustable handle.
12- MICROFIBER, DRY OR WET
Thanks to the polyester and nylon fibres with which they are made, microfiber cloths are super effective in cleaning almost everything: appliances, hobs, countertops, windows, ceramic hobs…
Its many tiny fibres can trap dirt in a single pass, if used wet, and create a static charge that attracts dust if used dry.
And also, as they can be put in the washing machine, you can reuse them as many times as you want. Use a specific cloth to clean each space.
13- ELIMINATE YOUR TRACE
Removing your pet's hair from the sofa, the curtains, the upholstery of the car, or your favorite sweater is an arduous task… And cleaning the brush afterwards, a real nightmare. Oxo's new smart tool solves both problems at a stroke. The micro bristles, arranged on both sides, catch the lint in a single pass. And to clean the brush, it slides in, and the lint comes off easily, as if by magic.
14- A SUPER-ABSORBENT CLOTH
Some leave the pottery in a drainer, and those prefer to dry it instantly. In this group, use microfiber cloths, which absorb 7 times their weight in water.
15- MICROFIBER DUSTER
Do you wonder where all the fluff comes from? Of the difficult areas where it is not cleaned often: under the sofa, the furniture or the bed. To make your job easier, use a folded chamois to reach unexpected corners—rengø microfiber duster with a flexible head.
16- SANITIZE THE SINK
In addition to using the sink to wash, we also wash fresh food. Therefore, it must always be clean and disinfected. Rub it with a degreaser and put a squirt of vinegar on a sponge to leave it shiny and free of germs.
17- STANDING VACUUM CLEANER
Faster than a broom and more manageable than a conventional vacuum cleaner, cyclonic vacuum cleaners maintain suction power like the first day. The model in the image allows you to clean the whole house thanks to its specific accessories for corners and furniture, and it works without cable and stands alone.
18- MICROFIBER MOP
Do you have a parquet or laminate floor, and you don't know how to keep it perfect? Use a microfiber mop like this one: spray, ergonomic, with rotating head, and washable. Easy to mount and use. And now you can boast of clean floors!
19- REMOVE STAINS
If you want to protect the stairs of your house, you can cover the steps with a carpet-type rug, but what happens when a stain falls on one of them and becomes visible? Eliminate it as soon as possible since time counts against you. To do this, pour a drop of neutral soap for children and rub it gently with a brush. You can repeat the operation two or three times until the dirt is completely gone. Make sure it is completely dry before stepping on the area again. Not a trace will be left!
20- TENNIS BALL
A grand slam remedy. Do you know the tennis ball trick? Read it well because it will be difficult for you to forget it from now on. If your wood or laminate floor has scratches and doesn't know how to remove them, take a ball and rub it over the scratch. You will see how, little by little, and it is disappearing. What do you not believe? Do the test, and you'll see.
21- KITCHEN CLEANER
In a more practical format. Cleaner for kitchens Tenn Brilliant Kitchens, in the spray.
22- MICROFIBER MOP
Greater absorption. Ballerina microfiber mop.
23- CLEANING PRODUCTS ON HAND AND ORGANIZED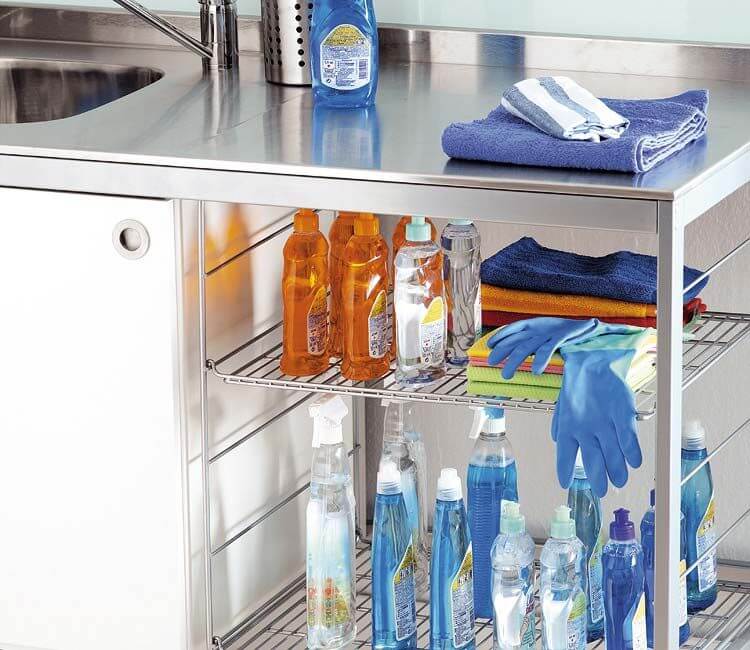 It is essential to keep cleaning supplies in order. Organize them in boxes, baskets, or shelves depending on whether they are in the bathroom, the kitchen, the floor, or the dust. Natural disinfectants are an alternative to chemical cleaning products. They are made with a mixture of hot water with lemon, vinegar, or baking soda. Keep in mind that you have to take extreme security measures with children.
24- ALWAYS READY FOR CLEANING
Get yourself a grabber and a brush when you have to pick something up in a hurry.
25- THE IDEAL VACUUM CLEANER
To eliminate dust and mites, the vacuum cleaner is a basic trousseau.
26- USE BASKETS AND BOXES
Brushes, sponges, cloths, and scourers are better in small containers.
27- COLOR THERAPY
The cleaning classics are renewed. Forget boredom with glamorous and colorful accessories.
28- WHEN IT'S TIME TO RUB
Keep your scouring pads in good condition and use them only for surfaces that don't scratch easily. For the rest, better sponges. In the shape of a mushroom and onion.
29- A RENEWED BROOM
We see and use them almost every day; why not choose a casual broom and a dustpan that makes arduous housework more enjoyable? Vigar proposes designs for all tastes.